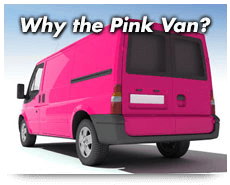 This Past October we "Pinked Out" our company to show our support of a very worthy cause. We received such positive feedback from our customers and it provided such a positive energy amongst our Team Members, we decided to take this to another level. In our community there are many local organizations that require assistance and support in various type form, some of which hit very close to home. As we are a Service Provider in business, we discussed amongst our team the importance of being involved with the Community we live in and work in who supports us each and every day. To be able to "SERVE" our community would not just be an honour, we feel it is our duty to do so.
We chose this colour as by definition it suggests Hope For The Future and is associated with Compassion and Caring. This description fits us well and supports our company's core values.
Of course we look to have some fun with our little Chariot too so be on the lookout for it if it happens to be in your neighbourhood.
Joe & Lynda Gerolami